California Security Academy
California Security Academy has been providing firearms training for over thirty years to Law Enforcement, Los Angeles Probation Department, Military Tactical, Executive Protection Firearms and Tactical Deployment, and Private Security personnel.

We are now expanding our training to include our
CCW Certification Course
APPROVED by the Orange County Sheriff's Department.
We are offering the Initial 16-hour Basic Course and
4-hour CCW Renewal or Recertification Course.
We are offering evening and weekend classes.
For more information, please contact us via email or by calling us at 714-504-9367.

TACTICAL PATROL RIFLE & TACTICAL SHOTGUN
California Security Academy personnel have a wide array of training and experience with patrol rifle and tactical shotgun weapons as former members of Law Enforcement SWAT teams, US Army Special Forces Operators and USMC Force Recon Operators. We offer Basic and Advanced courses for the Patrol Rifle and Tactical Shotgun. We also provide Basic and Advanced courses in Handgun Familiarization and Tactics.
Contact us today at 714-504-9367
for further information on class schedules, equipment requirements, course requirements and course pricing.
---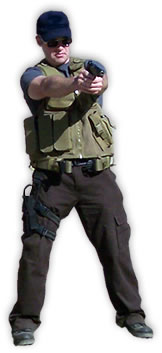 As never before in its history, AMERICA NEEDS TRAINED & QUALIFIED PERSONNEL in the fields of Private Security Officer, Private Investigators, Personal Protection Agents, Loss Prevention Agents and Public Safety Officers.
Hundreds of students annually attend California Secuity Academy's highly acclaimed vocational and occupational programs. We offer training programs that lead to exciting, well-paying careers within weeks of completing your training.
Our comprehensive programs provide complete training for:
Private and Proprietary Security Officer
Private Investigator/Entry Level Investigator
Body Guard Agent
Executive Protection Agent
Preparation for Private Investigator Examination
Preparation for Private Patrol Operator Examination

Courses are offered in both English and Spanish
Training Methods. Students learn by doing. Our programs combine in-depth theory with hands-on training. In many instances, students obtain on-the-job experience in the classroom and the field. California Security Academy students take vocational/occupational courses to prepare for a particular job, to switch careers, or to advance in their present field.
Quality Instruction. Our classes are taught by dedicated instructors who are state certified and have decades of experience in their program area. Many courses are taught by top professionals who continue to work in their fields of expertise. Our programs are fully accredited by state and national agencies and we offer all courses in English or Spanish.
Job Placement Opportunities. California Security Academy has placed graduates in positions with the following employers and trained others to own and operate their own security/investigation companies:
TRW - Intelligence facility
Rockwell International - Aerospace
United States Air Force - Space Research Facility Police
Armed Forces Reserve Center - Los Alamitos security
IADE American Schools - Security
Tactical Response, Inc. - Owner / Qualified Manager
WildCat Private Patrol - Owner / Qualified Manager
Unique Information Services - Investigator
Training Programs
Certified Course Offerings. Our vocational/occupational courses are both professional and technical. They're fully certified by the State of California, the Bureau of Private Post-Secondary and Vocational Education, and the Bureau of Security and Investigative Services, all to ensure that courses accurately reflect current industry standards.
Courses range from basic "powers to arrest" to "anti-terrorist tactics". See a listing of these courses to the right.
The training courses are designed to meet the student's needs. We train private persons in teargas and firearms use, as well as concealed weapons permit requirements. The Academy is open to all rehabilitation needs for retraining of injured workers and has successfully trained and assisted with placement.